小橋敦子 
ATZKO KOHASHI
Bio//
2005年よりアムステルダム在住。5歳でクラシックピアノを始め、慶応義塾大学在学中に学生ビッグバンドで活躍。1994 年から2001 年までニューヨーク滞在、スティーブ・キューンに師事。 帰国後は首都圏のジャズシーンで活動。2005 年、日本からオランダへ活動の拠点を移す。・・・・・・・・・・・
Music has sound, colors, speech and destiny in its creation.

I hope to share such experience with you...
​
​
​
​
​
​
​
​
February 14th (sun) 18:30~
Live/recording concert at Beauforthuis, Austerlitz
Duo with Tony Overwater (bass)
​
Beauforthuis: Woudenbergseweg 70 3711 AB Austerlitz (bij Zeist)
tel. 0343 - 49 18 58
info@beauforthuis.nl
Denise Jannah (vocal) & Atzko Kohashi (piano)
at DeLaMar Theater

Mary Dresselhuys zaal
​
October 10th (Saturday) at 19:30-
​
DeLaMar Theater: Marnixstraat 402, Amsterdam
​
​
​
​
​
​
​
​
​
​
​
Work in Progress......New Recording!
at Muziekcentrum van de Omroep Studio 2
with

Eddy Koopman

(percussion)
​
​
​
​
​
​
​
​
​
​
​
​
​
​
​
​
​
​
​
​
​
​
photographed on June 22 & 23, 2020
Sunrise Concert at Beauforthuis

on July 5th at 04:30 AM
Playing Duo with Frans van der Hoeven (bass) at Beauforthuis
​
​
​
​
​
​
Playing at Concertgemaal
​
"Cafe" Composed by Egberto Gismonti
Lyrics by Norma Winstone
with
Kristina Fuchs (vo) + Mark Tuinstra (guitar) + Tony Overwater (bass)
​
coordinated by NoorderHeim
on 8th of May 2020
​
​
​
with
Angelo Verploegen (flugelhorn)
& Tony Overwater (bass)
​
​
1. The Village of the Virgins (05:03)
2. Beauty and the Beast (04:44)
3. First Song (06:53)
4. Peau Douce (03:13)
5. Virgo (06:13)
6. A's Blues (03:08)
7. La Pasionaria (05:16)
8. Yi Jian (04:40)
9. Hermitage (05:59)
10. Ballad for Ché (03:24)
​
​
​
​
​
​
​
​
​
Virgo is the sixth astrological sign in the Zodiac and the Goddess of Innocence and Purity in Greek mythology. The word "Virgo" means virgin in Latin and the Virgo symbol is designed to depict Virgin- innocence and purity.
Innocence and purity are also important elements for Japanese aesthetics, which generate simplicity and freshness. You see it in many of classic Japanese art form such as choreography, ink brush paintings, ikebana (art of flower arrangement), sado (tea ceremony), noh (the oldest Japanese theatrical art), etc. Innocence and purity also encourage artists' creativity and spontaneity.
released by Jazz in Motion​
Recorded 2 track reel to reel
100% pure analog
by Rhapsody Analog Recoordings
Discography
2005-present//
​
*Click the cover photo
​
​
​
​
​
​
​
​
Atzko Kohashi (piano) Frans van der Hoeven (bass) Sebastiaan Kaptein (drums) Released: 2015 ℗ 2015 Cloud, Japan
Denise Janaah (vocal) Atzko Kohashi (piano) Released: 2017 ℗ Rhapsody Analog Recordings /NL
Atzko Kohashi (piano) Frans van der Hoeven (bass) Released: 2013 ℗ ToniQ Records
Atzko Kohashi (piano) Sebastiaan Kaptein (drums) Released: 2013 ℗ ToniQ Records
Atzko Kohashi (piano) Frans van der Hoeven (bass) Released: 2009 ℗ B.J.L. Japan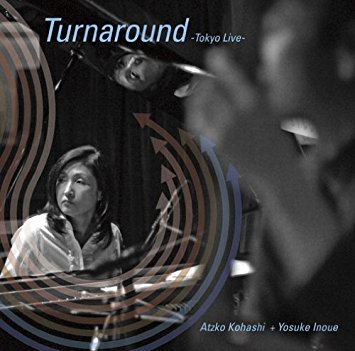 Atzko Kohashi (piano) Yosuke Inoue (bass) Released: 2010 ℗ What's New Records, Japan
Atzko Kohashi (piano) Shin Kasugai (bass) Ken Murata (drums) Released: 2005 ℗ P.J.L. Japan
Maya Fridman (cello) Atzko Kohashi (piano) Frans van der Hoeven (bass) Released: 2017 ℗ Trptk
コンサート依頼、その他のご質問・リクエスト等はこちらからどうぞ。
​